Phuket Family Photographer
   Every minute of every day spent with your family is so special and capturing your Phuket holiday moments with stunning images from a professional Phuket family photographer is priceless!. What better way to bring you back to a special time that you shared with your children and partner while on holiday in beautiful Thailand than having a photoshoot? No more selfies with your 8mp front cell phone camera with cut-off limbs a blurry glare and a lack of background, hire a real photographer based in Thailand for those high res sharp photos with an amazing backdrop from Phuket, Koh Samui, Krabi or anywhere in Thailand!. Family Photography rates start as low as 8000THB and upwards of 50,000THB depending on how many hours, locations and family members are involved. Note I am based in Phuket but do and can travel to Krabi, Koh Samui or anywhere else in Thailand at the extra cost of travel.
How to Prepare for Your Phuket Family Photo Shoot
1. First and foremost, make sure everyone in your family is on the same page about getting their photos taken. If there are any hesitations or reservations, address them head-on so that everyone is comfortable with the idea of being photographed.
2. Next, take some time to think about what kind of atmosphere or setting you would like for your photos. Phuket offers a wide variety of gorgeous locations, so spend some time browsing through our portfolio to get an idea of what speaks to you.
3. Once you have an idea of the overall vibe you're going for, start thinking about wardrobe. What will everyone be wearing? Will it be formal or casual? Again, browse through our portfolio for inspiration if you're feeling stuck.
4. Finally, begin thinking about any specific shots or poses that you would like to capture during your photo shoot. Do you want a traditional family portrait? A candid shot of the kids playing together? Something more creative and unique? Write down your ideas and share them with us when we meet so that we can make your vision a reality!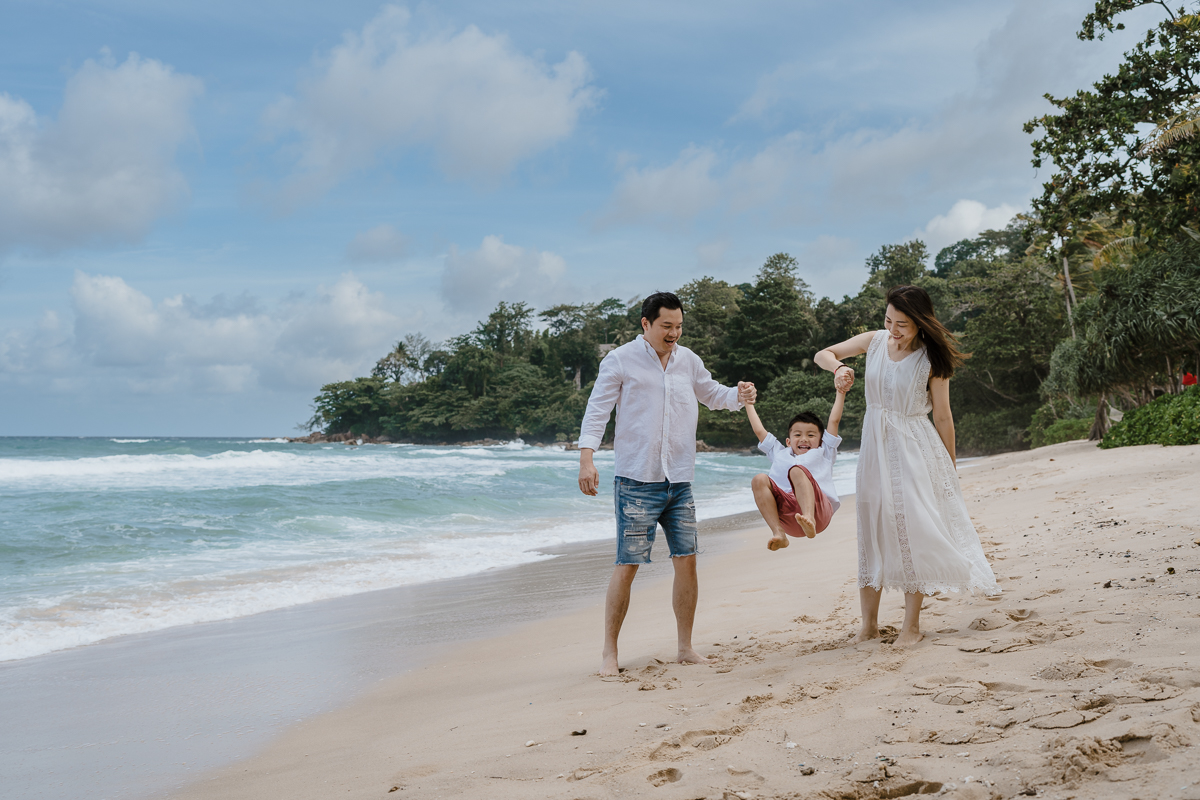 Thailand Family Photography Packages
A sample list of prices for Phuket, Koh Samui, Krabi Family Photography shoots
฿
10,000
30 min of photography
1 location - 10-25 edited photos
1 HOUR Family Photography Package
A sample list of prices for Phuket, Koh Samui, Krabi Family Photography shoots
฿
14000
90 MIN OF PHOTOGRAPHY
1 location - 10-25 edited photos
90 MINUTES OF FAMILY PHOTOGRAPHY
A sample list of prices for Phuket, Koh Samui, Krabi Family Photography shoots
฿
16000
90 MIN OF PHOTOGRAPHY
1-2 locations - 20-50+ edited photos
3 HOURS OF FAMILY PHOTOGRAPHY
A sample list of prices for Phuket, Koh Samui, Krabi Family Photography shoots
฿
22000
3 HOUR OF PHOTOGRAPHY
1-2 locations - 20-50+ edited photos
4 HOURS OF FAMILY PHOTOGRAPHY
A sample list of prices for Phuket, Koh Samui, Krabi Family Photography shoots
฿
28000
4 HOUR OF PHOTOGRAPHY
1-3 locations - 50-80+ edited photo
6 HOURS OF FAMILY PHOTOGRAPHY
A sample list of prices for Phuket, Koh Samui, Krabi Family Photography shoots
฿
38000
6 HOUR OF PHOTOGRAPHY
1-4 locations - 60-120+ edited photos
8 HOURS OF FAMILY PHOTOGRAPHY
A sample list of prices for Phuket, Koh Samui, Krabi Family Photography shoots
฿
50000
8 HOUR OF PHOTOGRAPHY
1-5 locations - 100-180+ edited photos