It's not every day that a Phuket photographer is featured and recognised for their work.
However, "as one of the leading wedding photographers & videographers in Phuket, Koh Samui, Khao Lak and Krabi Thailand. I strongly believe in focusing on my craft and if any recognition comes, I want it to be a result of my dedication to my craft," as Daniel puts it. With his dedication as a wedding photographer & videographer in Thailand, Daniel Baci has been recognised as the "Top 100 Best Wedding Photographers in the world" by Wedding Photographers Society. Recently, he has been awarded as Best Wedding Photographer in Thailand 2019 by LUX LIFE Magazine, a great recognition of not only his talent but also commitment and professionalism.
More than just being an entrepreneur, he understands the importance of building a connection as a wedding photographer in Phuket. Working with clients, delivering the best artistic service, and becoming a part of their special day is what makes everything worth it for Daniel.
Business Excellence Award 2019 – THE
BIZZ AWARDS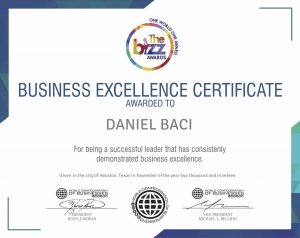 Rated in the "TOP TEN" of Thailand's best wedding photographers by "Junebug's weddings"
Rated in the TOP 100 Best Wedding photographers in the World Magazine by Wedding Photographers Society
Awarded best wedding photographer in Thailand 2019 by LUX LIFE Magazine
Best Wedding Photographer Worldwide
Featured in Wedding Chicks website:
Video Featured in Polka Dot Weddings