Best Wedding Destinations in Thailand
Best Destination Wedding Locations in Thailand
Thailand is known for its tropical weather, white sandy beaches, palm trees, lime stone rocks that shoot up out from the crystal clear ocean waters, beautiful sea view cliffs and view points that makes it the perfect dreamy wedding destination!. So where in Thailand to have your perfect wedding?
Phuket Weddings
One of the most popular locations is Phuket Island because of its beautiful landscapes, beaches, sunsets, amazing 5 star resorts, private villas and the international airport has daily scheduled flights direct to most countries making it an easy travel for you and your guests. Phuket is the busiest, most developed island in Thailand so the service is top notch and the vendor selection is world class however with that said Phuket is also the most expensive place in Thailand to get married in terms of venue, professional photographers, videographers, florist, sound & lighting etc. but like the old saying goes "you get what you pay for!", the highest price also means the highest quality in their product and services compared to other destinations such as Koh Samui, Koh Yao, Krabi, Hua Hin, Chiang Mai, Bangkok.. Other reasons it maybe more expensive in Phuket: Cost of living here is higher for the locals, real estate is high, food is more expensive and most need a car to get around hence why their rates are a bit higher then other locations.
My rating for Phuket 1 out of 10 is an 8
Phuket Venue's:  8 – Phuket has many options for private villas & resorts.
Phuket Vendors: 9 – Because Phuket has been popular for many years for weddings, their vendors are the best in Thailand.
Phuket's things to do: 9 – Phuket is a large island and each part of the island has many things to do from early morning to late night, you'll never be bored.
Phuket for photography: 8 – Many different locations to shoot pre-wedding, family, portraits and many wedding venues are very interesting places to photograph in and yes they have AMAZING sunsets.
Phuket appeal: 7 – Phuket is very touristy so for me personally its lost much of its appeal.
Koh Samui Weddings
Koh Samui is another Thailand favourite when it comes to destination weddings, known for its real island appeal with its stunning beaches, windy mountain roads with a sea view. Koh Samui is a good mix of quiet island life and busy touristy life as both can easily be found all over the island, Samui has some of the best 5 star resorts for your beach front or clifftop wedding ceremony, the beaches in Koh Samui are much more private and Samui also has a bigger selection on private villas. Koh Samui is the 2nd biggest wedding destination next time Phuket so they are no strangers to organising events in fact you may get a better value for money when you get married on Samui rather then Phuket as the venue selection is at the same level or even better, they do have great vendors and if you want the best in Thailand Samui is an easy travel from Phuket. I on average photohgraph about 10-15+ weddings in Koh Samui per year and I would have to say that for me personally Koh Samui is the better place to get married as I think its more romantic and much more photogenic. The con's on a Samui wedding are: The airport is owned by Bangkok Airways so you can only fly into Samui with them and the cost is very high also for international flights there are no direct flights so flying your friend and family in for your wedding is much more expensive then Phuket. Samui has good vendors that are cheaper then Phuket but most are not at the same level of quality but again many Phuket businesses travel often to Samui.
My rating for Koh Samui 1 out of 10 is an 8…
Koh Samui Venues: 10 – Love, Love, Love Samui venues.
Koh Samui vendors: 7 – Some great but not many options for the best.
Koh Samui "things to do": 8 – Loads to do on this small island but after a week you will be bored.
Koh Samui for Photography: 10 – Koh Samui is a paradise island with many exotic settings for photography and videography.
Koh Samui's appeal: 9 – Samui has yet to lose its appeal, the big touristy areas are only a very small piece of the island so the Thai charm still exists.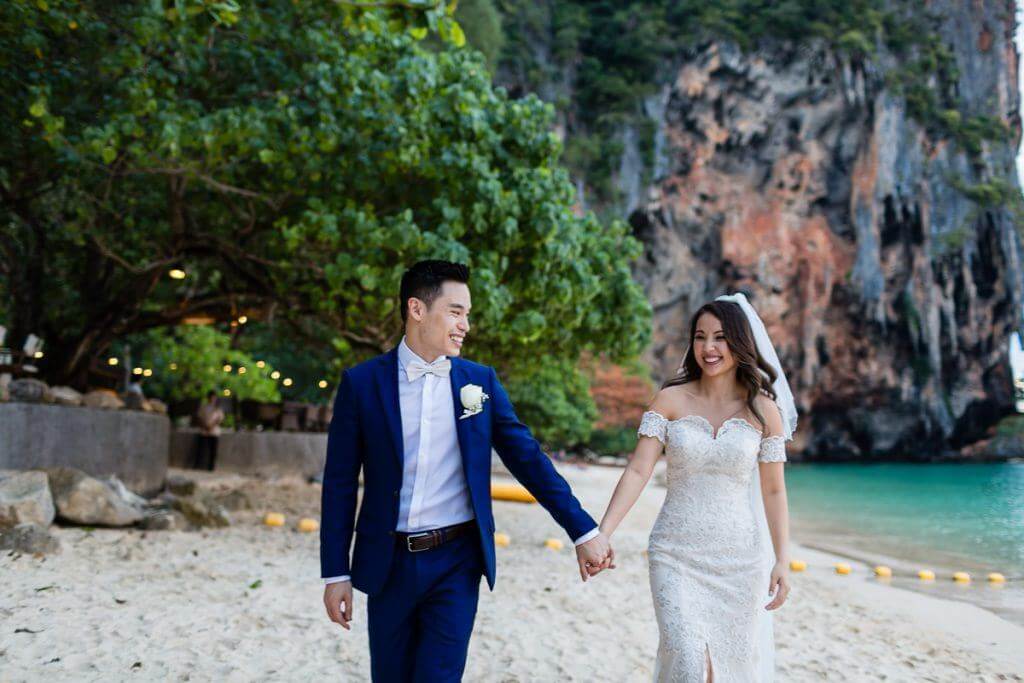 Krabi Weddings
Krabi Thailand weddings are rather different from Phuket or Koh Samui, Krabi is famous for its limestone rock landscape, its popular island from the movie "The Beach" Phi Phi Island, the wedding scenes in the movie "The Hangover" and newly filmed movie "The Fast & Furious". Krabi has the best sunsets in all of Thailand, the skies just light up with colours (makes for great photography), the beaches are peaceful and there are less people trying to sell you things. Krabi is a good alternative if you want to save money yet get that dreamy Thailand wedding experience, venues are cheaper, vendors are cheap, food is cheaper so you'll save a fair bit BUT again not many good vendor options so you'll have to hire people from Phuket to travel for the higher end touch but not a big deal most Krabi venue are just 3 hour drive from Phuket.
My rating for Krabi 1 out of 10 is an 7.
Krabi Venues: 7 – Only a few good venue to make mention of.
Krabi Vendors: 6 – Not enough options for high end.
Krabi "things to do": 6 – Plenty of stuff to do if your only traveling for the weekend but any longer you'll be swimming to Phuket!
Krabi for photography: 8 – The sunsets are epic and the landscapes are like no other so it make a great place for photography.
Krabi's appeal: 8 – Most of Krabi is untouched from major tourism with only a couple small pockets of commercial places to play so Krabi still has that culture some are looking for.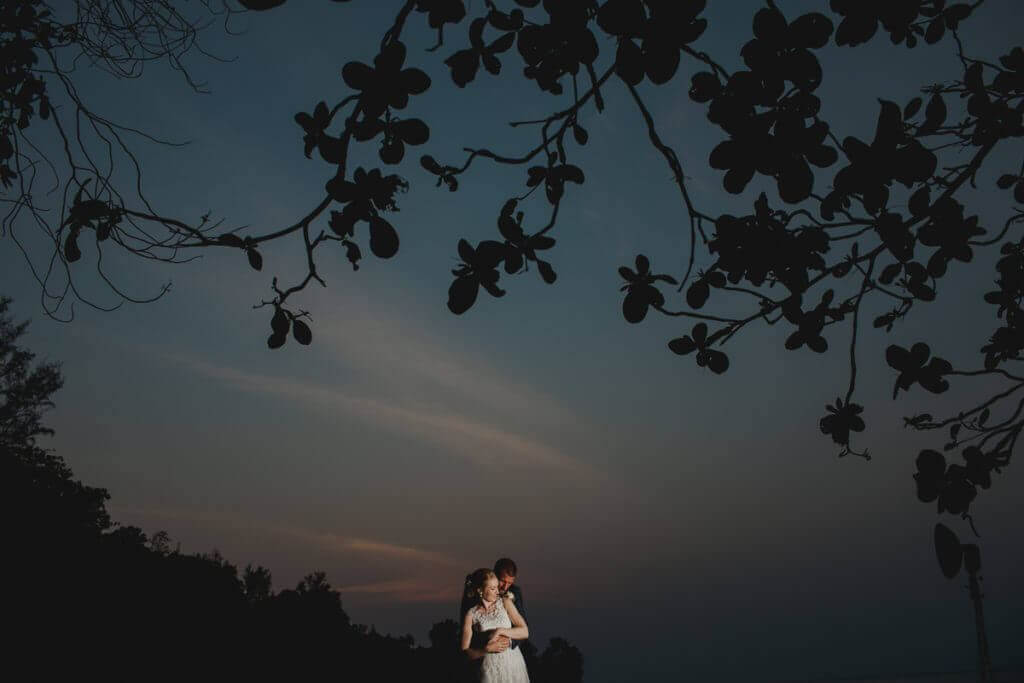 Khao Lak Weddings
Khao Lak & the Phang-nga area are the most under appreciated places in Thailand!, Khao Lak is an amazing place to get married!, beautiful empty beaches for miles, affordable stunning venues, close to Phuket airport (1hr). Khao Lak is a very laid back quiet place yet is not to far from the action as Phuket is just a 1 hour drive away so my advice would be to take advantage of this amazing place before it gets too commercial!.
My rating for Khao Lak 1 out of 10 is an 8.
Khao Lak Venues: 8 – Not the best brands here yet but some lovely resorts indeed.
Khao Lak Vendors: 8 – Not many local choices but most companies travel from Phuket.
Khao Lak "things to do": 9 – Khao Lak is there to relax from it all, enough to do for the weekend and because its so close to Phuket I give it a 9.
Khao Lak for photography: 7 – Stunning sunsets and empty beaches!, its nice not having to crop people of of so many photographs on the beach so I can take wider portraits but outside from its big beaches there isnt much else to photograph.
Other honorable mentions
Other locations that I have not yet photographed in Thailand yet I have a small wedding market are:
Bangkok – I am still waiting to photograph a wedding or a couple here so please hire me!, I love the urban feel.
Hua Hin – A quiet beach town near Bangkok with lots of stunning 5 star resorts.
Chiang Mai – Ahhh a totally different vibe there and cooler weather, I'd love to experience a destination wedding there.
Koh Phangan – Koh Samui's little sister
There are a few smaller island I didnt bother to mention as the market is smaller.
There you have it, the BEST destinations for a Thailand wedding!, my next blog post will be the best venues in Thailand!